First impressions are the most lasting. Services like our Professional Address, Private Mailboxes, and Reception give you the full business presence you want.
---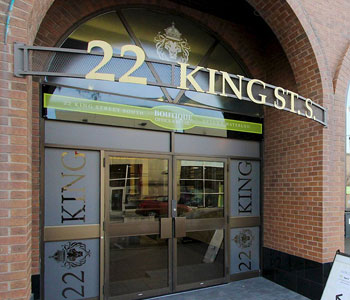 Ensure your business has its best foot forward, even when you're not there. 
We've made the investment in our front office so you don't have to.  Whether people find you online, or visit you in person, you can be confident our location and staff will ensure your business has its best foot forward, even when you're not there. 
Our business presence solution includes several key elements necessary for any business with one simple low monthly fee.
---
Key Features of Our Full Business Presence
  Professional Address
First impressions do matter and having a main street address delivers the message you're serious about success.
Private Mailbox
Have all of your mail personally delivered to your own private locked mailbox, accessible to you when you need it.
Reception
Having a full time staffed front reception counter ensures you are fully covered for those expected, or unexpected, drop-ins.
Courier Handling
We manage your packages and ensure all your important documents and parcels are delivered, or received, with care.
Package Storage
A week of storage is included for those times you just can't make it into the office. Or, we can deliver your package to you.*
Scan + Copy
A full service multifunction machine at your disposal with usage included, just as you'd expect with your office.
*additional fees may apply.
---
Frequently Asked Questions
Why should I choose Chameleon over a postal outlet?
With a mailbox at Chameleon, you get a professional office address, not a P.O. Box number or a retail store address. If you are a serious business owner, having a prestigious office address in a downtown office building provides you with a professional image for your business, communicating to your clients or customers that you are serious about success. In addition, Chameleon offers support services not found anywhere else that will save you time and money, allowing you to focus on what is important in your business.
Why should I pay for a business address when my home address will do just fine?
Many people looking for a business to assist with their needs will search the internet. When your business appears within a residential area or is affiliated with a residential address, people will often overlook you because they assume you are not serious about your business or are just doing it 'on the side'. Having a professional address ensures your business puts its best foot forward and makes a good first impression.
What address do I use on my website and business stationary?
Your mailing address will be:

YOUR BUSINESS NAME

22 King Street South

Suite 300

Waterloo Ontario

N2J 1N8

 

No box number is required
When can I pick up my mail and packages?
Our services allow you to pick up your mail during business hours (8:30am – 5:00pm Monday to Friday). If you prefer 24/7/365 access that suits your schedule, you will be provided with a security access card to enter the building and office after hours*. 
Do you notify me when I have mail or couriers arrive?
There are many different options available for how your mail and couriers are handled. Because we are a fully staffed centre with services designed to support your business growth, we can go well beyond simple mail notification. For example, we open mail, scan mail to email, forward mail, and deposit cheques for many of our clients.    
Does having a professional address cost a lot?
Not at all. When you consider the low monthly fee of a professional address at Chameleon to the potential cost of having a similar address in a downtown office location with the associated benefits, there is tremendous savings for your business. Additionally, although we are slightly more expensive than a PO Box service outlet, the benefits and services not found in these locations far outweigh the additional expense.
Can't Find The Answer You Need?
Fill out this form to ask your question.