With fully-trained and local staff, we are a natural extension of your team to welcome clients and answer calls with knowledge, helpfulness, confidence, and a smile.
---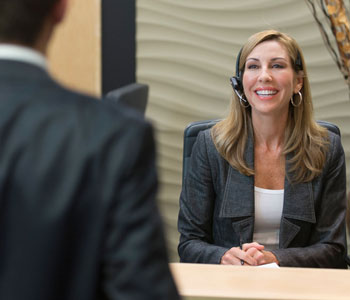 Highly skilled people answering your calls, your way.
With a busy schedule, interruptions can be frustrating… and costly. But the same phone calls are often the lifeline of your business — and handling them properly can be the key to your success. With a systematic training system and a sincere commitment to your success, our staff will be the knowledgeable and trustworthy first point of contact your business needs.
We do so much more than transfer calls and take messages, so the term "Call Centre" doesn't even apply to us - we're pretty adamant about that. We have the skills and potential to become the front-line, and back-end, of your business as we are for so many of our clients.
---
Key Features of our Reception Services
Every Call Answered
Our staff are available to answer every call that comes into your business during business hours in 3 rings — guaranteed.
Human Element
 With the ever-increasing use of technology in communications, our live answering services are an important differentiation.
Save Money
We only charge for talk time, so you have knowledgeable staff on standby at no extra charge, saving you labour costs.
Phone Line Included
Make and take the calls you need to with a business phone line and phone number, included at no extra charge.
Knowledgeable Staff
Our local staff are trained in your business and communications, and can troubleshoot even the most complex calls.
Reduced Headaches
Let us take care of things like staffing, payroll, and more. Full-time staff coverage without the headaches.
Frequently Asked Questions
How is your service different than a call centre or other business centres?
We do not consider ourselves a call centre because of the level of service we can provide to our clients. Typically call centres are limited to taking messages and are usually staffed by a large rotating group of people, often located internationally. At Chameleon, we are able to handle calls just as if we were one of your employees, and we have the same small group of team members answering your calls all the time, who are situated locally in our Uptown Waterloo office.
What hours do you answer the phone?
We answer calls from 8:30am – 5:00pm Monday to Friday, excluding statutory holidays.
What happens with calls received after-hours, on weekends and on holidays?
After-hours calls are directed to an automated attendant, voicemail, or forwarded to another phone number that can handle the calls with a more basic level of service that is not typically expected by customers during off-peak hours.
Do you make outbound calls?
Yes we do!  We can make sales calls for you, appointment reminders, quote follow ups, A/R payments, and many other types of outbound calls that will improve your sales prospects, conversions, customer satisfaction, and revenues.
How are lunch hours, breaks, sick days, and vacations covered?
You do not have to worry about lunch breaks, sick days and vacations – we take care of those details so you don't have to. Our team is structured to ensure all your calls are always answered by a live, trained team member. We are big enough to ensure you are always covered, but small enough to care and know your business intimately. 
Do you answer every call?
Yes, we guarantee to answer every call that your business receives by a live, trained staff member who knows your business just like an employee would know your business.
What happens when you don't know how to handle a call?
This will admittingly happen from time to time, and we will always act with integrity and honesty by explaining to the caller that we will need to obtain further information and direction to help them. We will then contact you for instruction and ensure a return call is made to the caller and they are assisted appropriately. We will never make assumptions about how you want your business run.  Fortunately, with time we get to know our client's businesses very well (we're quick learners!) and this becomes very much an infrequent occurrence.
I have more than one staff person. Will you answer calls for my entire company?
Yes, we can answer calls for as many people as necessary. Our systems and training methods are sophisticated enough to handle businesses from one person to over a hundred. 
My business is seasonal? What happens when I get busy?
Our services are scalable throughout the year and are ideal for seasonal businesses. You do not need to worry about hiring and laying off staff because the season changes.
Can't Find The Answer You Need?
Fill out this form to ask your question.