If you are looking for a short-term or long-term rental of a private business office space in the Kitchener-Waterloo area, you're in the right place. We offer the privacy you need, with the services and security to give you peace of mind.
---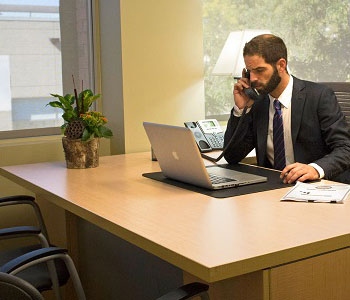 Boutique offices — without the boutique price.
We have created an intimate, professional office environment that provides the privacy you need, with the conveniences of a large corporate office space.
The unique community we've cultivated in  our private offices understand the privileges associated with a Chameleon Full Time Office. 
Modern amenities, professional staff and the support tools you need.
---
Key Features of our Full-Time Private Offices
Professional Address
First impressions do matter and having a main street address delivers the message you're serious about success.
Reception
Having a full time staffed front reception counter ensures you are fully covered for those expected, or unexpected, drop-ins.
Boutique Office
A small office environment creating a familiar, supportive community of like minded professionals.
Fully Furnished
All of our full time offices come fully furnished, with guest chairs, artwork, lamp, wifi and phone, so you can get to work right away.
Support Staff
Our staff is always available to receive your guests, answer calls, and assist with whatever tasks you may need help with.
Office Equipment
A full service multifunction machine, shredder, boardrooms, and kitchen at your disposal, just as you'd expect with your office..
View Our Office Space
Click on a thumbnail to view larger images:
Frequently Asked Questions
What is included with a Full-Time Private Office?
Our Full-Time Private Offices come with many benefits not typically found in a business centre, including:
a private office with 24/7/365 access
furniture
phone with free North American wide calling
wifi
use of our address for your business
private mailbox
a business phone number
live reception answering of your inbound business calls,
a monthly print/copy/scan/fax package
meeting room usage package
an administrative support package.
Simply, everything you need to instantly jump start your business and allow you to focus on what is important in your business.
Can I bring my own furniture?
Yes, you can bring special furniture unique to your business, however almost all of our clients use our office furniture, which is included at no extra charge.
What types of things can your staff help me with?
Our client base covers dozens of industries and our staff have been trained to perform hundreds of different tasks in almost every type of business.
There are many similarities among business which allows us to become efficient at helping you.
We can assist you with almost any administrative task that is not required by industry regulation to be performed by a licensed professional, such as securities transaction instructions, insurance coverage changes or real estate title administration.
Is boardroom usage included in the monthly rent?
Yes, all of our private offices come with a limited meeting room package. Additional usage is charged at our preferred member rates.
How much does a full time private office cost?
Our rates are based on market conditions and change in response to changing market demand and supply. Our rates are competitively priced with other local competing business centres. When you consider all that is included in our all-inclusive pricing as well as the benefits offered at Chameleon not found at other business centres such as staff support and boardroom usage, our rates end up being more economical than the competition.
How long of a commitment do I have to make?
You can rent a full-time office with as little as a 3-month commitment, however we will be able to offer you our best pricing with a minimum 12-month commitment. Regardless of the term you settle upon, our leases come with the ability to opt out at any time with a declining cancellation fee depending on how long you are with us.
Is parking included?
No, however we offer a monthly parking option at market rates available in the lot adjacent to the building, subject to availability. Access is off Regina Street. Parking passes are also available from the City of Waterloo for parking in their uptown lots, many of which are within a short walking distance of the building. Many of our clients have also found alternative private options that provide convenient parking within walking distance of the building at a more affordable price than public paid lots.
Can't Find The Answer You Need?
Fill out this form to ask your question.