We make finding the perfect meeting space easy with our fully-equipped meeting rooms, whether you're hosting a meeting of 2 or a conference of 22.
---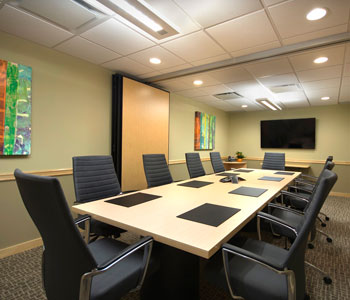 Professionalism without the overhead.
Save time and money with our meeting rooms on demand. No matter when you need it, you benefit from a professional meeting space with supporting staff, whiteboards, large screen TVs, conference phones, wifi, and caffeine all included.
Become a member, and book your perfect space 24/7, 365 days a year to make a great impression, whether it's your next client meeting, interview, staff training, team brainstorming get-away, or executive board meeting. We're ready when you are.
---
Key Features of our Meeting Rooms
Flexible Bookings
Rent our comfortable, modern conference rooms by the hour, half day, day, week, or for however long as you need.
Support Staff
Our staff will be there to greet your guests, assist with catering, and provide you with support during meetings.
Quiet Rooms
Our meeting rooms are constructed with insulated walls and ceilings so that your conversations remain private.
Customizable Space
Our rooms feature flexible furnishing to suit your needs – boardroom style, classroom, auditorium, or open space.
Equipment Included
Our rooms come equipped with everything you need, including whiteboards, chart paper, TVs, and conference phones.
Simple Booking
Book one of our meeting rooms quickly and efficiently by calling, emailing, or booking on the web — it's up to you!
View Our Office Space
Click on a thumbnail to view larger images:
Frequently Asked Questions
How large are your conference rooms and how many people can they accommodate?
We have two meeting rooms. Our Uptown Meeting Room is 14' x 14' and can comfortably accommodate up to 6 people. Our Seagram Boardroom is 14' x 26' and can comfortably accommodate up to 18 people with boardroom style seating, or 24 with auditorium seating. This room can also be divisible into 2 smaller rooms that are 13' x 14' for flexibility in accommodating your needs.
What equipment do you have in the conference rooms and does it cost extra to use?
Our meeting rooms come fully equipped with large screen TVs with HDMI connections, whiteboards, chart paper, and a conference phone with free North American calling. The use of the equipment is included in the cost of the room rental.
I need WiFi for my meeting. Is WiFi available and reliable?
We have a secure high-speed fibre internet connection that is available to everyone using our centre free of charge.
How far in advance do I have to book?
We recommend booking as far in advance as you can to ensure availability, however we can usually accommodate short notice bookings or even drop-in usage. Our Uptown meeting room is frequently booked 2-3 days in advance and many are recurring bookings. Our Seagram boardroom is frequently booked 5-14 days in advance and many are recurring bookings.
Can I book during evenings and weekends?
Our meeting rooms are available 24/7/365 to our member users. For drop-in users, our rooms are available during regular business hours, which are 8:30am – 5:00pm, Monday to Friday excluding holidays. In some circumstances, we can accommodate drop in users outside of business hours with advance notice.
What is your availability like?
We want to ensure you have the confidence to use our offices like they are your permanent offices, so we try our best to ensure we have enough availability to satisfy demand, which fluctuates from week to week and month to month. We are confident there will be a room for you when you need one, and we offer a guarantee to back it up.
How much does it cost to book a room?
Our rooms can be rented by the hour or in 4-hour bundles. Our rates differ depending on if you are an infrequent drop-in user or a member user who can take advantage of discounted rates. Therefore, the cost will vary depending on how frequently you book during a month, the duration of your booking and the size of room you are occupying.
Where can I park my car?
There are several 2 hour free public parking lots within a short walking distance of our office in Uptown Waterloo. For longer stays and daily parking, there is a parking garage steps from our offices as well as the ability to extend your 2 hour free parking with a reasonable hourly rate using the mobile phone app HonkMobile. For more information visit our Parking Page under the Area Services or visit the City of Waterloo's website for current rates.
What is your cancellation policy?
We have a 24 hour no-charge cancellation policy for our members, similar to most hotels. If you cancel your booking with more than 24 hours notice you will not be charged. Any cancellations within 24 hours will be charged the full rate. For our infrequent drop-in users, the cancellation notice period is 48-hours.
Can't Find The Answer You Need?
Fill out this form to ask your question.