Our part-time offices provide you with the amenities, security, and professionalism of a full-time office when you need it without the permanent on-going monthly cost or long term commitment of a dedicated permanent office.
---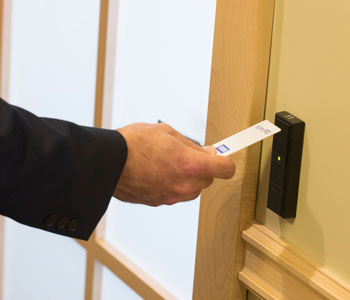 Security, Privacy & Staffing – On Demand
The importance of in-person communication cannot be overstated when it comes to doing business and closing deals. Our Part-Time Private Offices provide the ideal combination of privacy and staffing wrapped into the flexibility of an on demand schedule – something you won't get anywhere else. We'll take care of greeting your guests, running to the copier, getting coffee, and anything else you need, so you can focus on what's important – connecting with your client in an environment ideally suited to getting business done.
---
Key Features of Our Part-Time Private Offices
Privacy
Our part-time offices feature the same comfort, convenience, security, and privacy that you get with a full-time office.
 Fully Furnished
All of our part-time offices come fully furnished, clean, and ready for you so you can get to work right away.
 On-Demand
Our offices are available whenever you need them, and can be easily reserved by phone, email or online.
Connected
All of our offices come connected with complimentary high-speed wifi and North America-wide long distance calling.
Reception
Our trained staff are always available to receive your guests and assist you in managing your appointments efficiently.
Scalable
With on-demand booking, you only pay for what you use.  No more monthly rent being spent on a vacant office.
View Our Office Space
Click on a thumbnail to view larger images:
Frequently Asked Questions
How big are the offices?
Our offices are spaciously designed to accommodate a large 3' x 6' desk with principal chair, two guest chairs, and full desk return. Our typical room is approximately 120 square feet, about the area of a mid to large size bedroom. 
How private are the rooms?
We take privacy seriously. Our rooms are all fully private rooms with insulated walls and ceilings for sound dampening. We have carpeted floors, not trendy hard surfaces which reflect sound from room to room. All of our solid wood doors offer card access locking mechanisms and frosted glass for privacy. Our windows offer shades for privacy when you need it.
When are your offices available for booking?
Our offices are available 24/7/365 to our member users. For drop in users, our offices are available during regular business hours, which are 8:30am – 5:00pm, Monday to Friday excluding holidays. In some circumstances, we can accommodate drop in users outside of business hours with advance notice. 
How can I book a room?
You can book a room by emailing us at support@chameleonbusiness.ca, calling us at 519-279-0160, or online within our website (coming soon). If you are calling during business hours we will always answer the phone and confirm your booking at the time of the call. If you are emailing, we will typically respond within 10-15 minutes of your email being received during regular business hours.
How far in advance do I have to book?
We recommend booking as far in advance as you can to ensure availability, however we can usually accommodate short notice bookings or even drop-in usage. Our offices are frequently booked 2-3 days in advance and many are recurring bookings.
What is your availability like?
We want to ensure you have the confidence to use our offices like they are your permanent offices, so we try our best to ensure we have enough availability to satisfy demand, which fluctuates from week to week and month to month. We are confident there will be a room for you when you need one, and we offer a guarantee to back it up.
How much does it cost to book a room?
Our rooms can be rented by the hour or in 4-hour bundles. Our rates differ depending on if you are an infrequent drop-in user or a member user who can take advantage of discounted rates. Therefore, the cost will vary depending on how frequently you book during a month. As a member user, the rate is typically less than $10/hour.
Are offices only rented by the hour?
No. Our offices are booked in 15 minute increments on the hour.
Where can I park my car when I come to the office?
There are several 2 hour free public parking lots within a short walking distance of our office in Uptown Waterloo. For longer stays and daily parking, there is a parking garage steps from our offices as well as the ability to extend your 2 hour free parking with a reasonable hourly rate using the mobile phone app HonkMobile. For more information visit our Parking Page under the Area Services or visit the City of Waterloo's website for current rates.
What is your cancellation policy?
We have a 24 hour no-charge cancellation policy for our members, similar to most hotels. If you cancel your booking with more than 24 hours notice you will not be charged. Any cancellations within 24 hours will be charged the full rate. For our infrequent drop-in users, the cancellation notice period is 48-hours.
Can't Find The Answer You Need?
Fill out this form to ask your question.